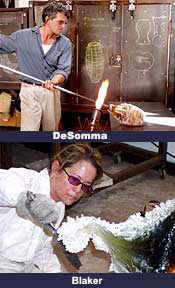 Paul DeSomma and his wife, Marsha Blaker, also internationally known for her glass and ceramic art, have a studio in Live Oak, CA. where they create both individually and collaboratively. Blaker and DeSomma work mainly with hot glass (hot, as in 2,150 degrees) and create pieces from both blown glass, which ends as a hollow piece, or solid works, which are large pieces of glass manipulated while molten.
Both Blaker and DeSomma have worked at the acclaimed Pilchuck Glass School outside of Seattle, and Blaker taught ceramics at Cabrillo College until recently.
The decision to collaborate, as opposed to working side by side in the same studio, came in part because of a serious car accident in which Blaker was involved. She calls it a "lifestyle change."
"Somehow, the accident made us realize that now is the time to do the work that we're both really feeling needs to be done," she says. "Why wait for a better time? There's no better time than now. Often, things that appear tragic can be a real positive influence, ultimately. That's what we've found in this case, is that we were able to see the bigger picture."
"Or," DeSomma adds, "go for the bigger picture."