Chris Lowry's glass career began as early as seven years old and has spent the better part of his life improving his art. He grew up in his father's glass shop on the Oregon Coast and became serious about his art when he moved to Oahu, Hawaii at the age of 18. He worked as an assistant to glassblower, Hugh Jenkins at Punahou School and credits Jenkins as being his first real teacher. "Hugh taught me that fundamentals are essential in every art form and if you don't have those fundamentals you limit your capabilities".
Lowry subsequently moved to Maui and worked for glass artists, Bill and Sally Worcester. He went on to earn his Bachelor of Fine Arts degree with an emphasis in blown glass from Alfred University in New York. Lowry has also studied with masters Pino Signoretto from Italy at Pilchuck Glass School and numerous teachers at Penland School of Arts and Crafts. In 2000, Lowery bought the glass blowing business from Bill and Sally Worcester with long time friend Chris Richards.
Chris Richards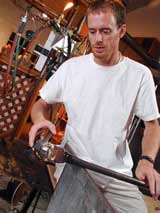 Chris Richards grew up in Issaquah, Washington. His first exposure to glassblowing came when he was a child on frequent trips to Canon Beach to visit his aunt and uncle, Bill and Sally Worcester who owned a glassblowing studio there. Later in life, as an accomplished musician, he found his way back to the art in 1992. "Blowing glass is not something I set out to do, it's something that just happened…once I tried it, I was hooked."
Like, Chris Lowry, he too went to work for the Worcesters blowing glass on Maui. After teaming up with Chris Lowry in 2000, he has been extremely busy blowing glass to meet the demand in Hawaii. Their work continues to be in high demand. "What I do requires me to be completely focused on the moment."