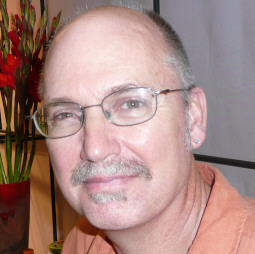 Steven Main was born in September 1951. He studied glass at Kent State University under Henry Halen and received his Bachelors of Fine Arts degree specializing in glassblowing in 1978. Shortly after graduating, he started his own glass blowing studio. To this day, he is the sole artist and glassblower in his studio. He is quite selective about the quality of his finished pieces and likes to work alone.
Main has received several awards over the years; the most recent was at the "Perfume Bottle Exhibition" at the Alexander Brest Museum in Jacksonville, Florida. He is modest in many ways and prefers to not promote his achievements over the years. He participates in several invitational shows each year around the U.S. Reviews of his work have appeared in several publications including but not limited to Style Magazine in 1997, The Denver Post in 1986, The Sunday Camera Magazine in 1985 and Silver World in 1981.
Main creates exquisitely designed hand blown vessels and perfume bottles with multiple layers of colors. He typically has 5-6 series of designs, which he produces focusing largely on pulled glass cane and the earth tone colors and reds. "My work reflects my interest in the patterns found in nature, like the striations in rocks and the visual rhythms of plants", says Steve Main.