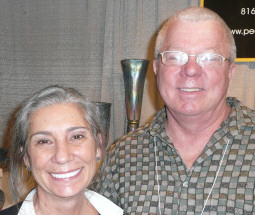 I was introduced to glass in 1971 as one of the first Students at an experimental workshop in glass
near Seattle, Washington. This later became known as the world famous Pilchuck Glass Center. In 1972, I
worked with Dale Chihuly and Dan Dailey at the Rhode Island School of Design, and returned to Pilchuck
that summer as a teaching assistant. Also that same year I received my BFA in Ceramics from the Kansas City Art Institute.
As Henry Halern's graduate assistant at Kent State University (1974—76), I participated in workshop with artists Paul Marioni, Bertil Vallien, Joe P. Meyers and Fritz Dreisbach. After completing, my MA in Glass from Kent State in 1976, I moved to: Santa Fe, NM with my wife Susan, where we owned and operated a glass studio for almost 30 years.
The year 2004 brought a new chapter in our lives. We bought some land and built a new house and studio at Lake Lotawana, Mo. This is a small community surrounding a lake
near Kansas City where I grew up, and have remained close to many friends and family. Our recently introduced "Mallard Bay" landscape series is an influence from our new environment.
Oven the years, I have developed techniques, tools and equipment which has given me the freedom to work alone. This is unusual with contemporary glass today but as a former ceramic artist I find it quite natural. I continue to: enjoy the challenge of designing and producing glass inspired by natural landscapes.