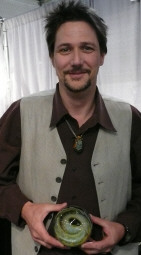 James Yaun is one of the premier innovators of borosilicate lamp-worked art glass in the world. He has cut a highly technical slice of the field, dissected and reassembled it into some of the best and largest art work shown on the
market today. His fantastic orbs are often mistaken for hot shop work.
All of James art objects are colored with 24 karat gold and fine silver through a process called Fuming. It is a labor intensive and time consuming process which is similar to steam rising out of boiling water and condensing on a cooler plate held above. In this metaphor the "water" is 24k gold or fine silver which "condenses" on the art piece and is covered in multiple layers of clear glass to produce an incredible finished piece.
James Yaun began preparation for his glass working career years before he ever knew of the glass arts. As a young man he made and played musical instruments and wrote poetry, some of which incorporated sketches and painting. James also worked construction jobs with a focus in finish carpentry and painting. This practical foundation helped him start an art career by first taking old pieces of wood and painting accent motifs on them and he transitioned from construction worker to artisan to artist. Then a friend, Ethan liked his paintings and offered to teach James how to do lamp worked borosilicate glass.

James fell to the medium quickly and it became his favorite instantly. He spent endless hours at the torch, sometimes working 20 hours straight catching a few hours sleep and then working another 20 or so. His unique orbs are a reflection of his love and dedication to the mastery of his craft.