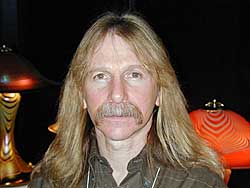 Stuart Abelman studied sculpture and painting as he was growing up and by eighteen years old already had an impressive portfolio. He studied fine art for four years at Carnegie Mellon University in Pennsylvania where he received his Bachelor of Fine Arts Degree. It wasn't until his senior year that he saw the glass blowing department where he devoted his entire senior year. He went on to receive a Master of Fine Arts Degree from UCLA.
After finishing the masters program at UCLA he was asked to take over running the glassblowing department at El Camino College in California. He accepted and went on to introduce a stained glass program as well. After several years as a college instructor, he started his own glass studio in 1977 so he could implement many of the creative designs he had developed over the years.
Abelman was one of the small group of pioneer glass blowers that helped fuel the modern day glass art movement in America. It had all but vanished since the Art Nouveau period in the late 1800's. He wanted to be a part of taking the art medium further than it had ever been before in this country.
His current work today is the product of over 35 years of design and hands on glass blowing experience. Many of his pieces are limited edition due to the difficulty in reproducing them. His clowns
are at the forefront of these limited edition pieces.