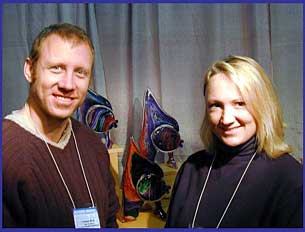 Tom Bloyd and his wife, Julie have created the perfect husband and wife glass blowing team. Tom is the lead glass blower and Julie who is pretty much self taught is his able assistant. No accomplished glass blower can be successful without a competent assistant he can work in harmony with.
Tom Bloyd received his Bachelor of Fine Arts degree specializing in Glassblowing and Metalsmithing from the University of Kansas in 1992. Immediately after finishing his schooling he started his own studio and has never looked back. He uses the metalsmithing background to create sophisticated stands for his multi tiered fountains and has become equally well regarded for his whimsical multi colored fish. The fountains are hand forged steel which cradle hand blown glass bowls. The grass accent is hand formed, textured and attached with a copper wrap. The fish are made with multiple "bits" of glass to the belly that are textured, cut and sculpted.
ARTIST STATEMENT
"The color combinations and designs that I apply today are a culmination of over 14 years of exploration. One focus of my work is the exploration of optical layering of color. The layering of color on clear glass creates incredible depth and vibrant, dimensional patterns. I manipulate color so that each piece has a different pattern on the interior than on the exterior. Even after a lifetime of working in this medium, I know that I will only scratch the surface on all the possibilities it presents."
| | |
| --- | --- |
| | |
| 7 Bowl Rainbow Fountain | Pacific 5 Bowl Fountain |
| | |
| Atlantic 7 Bowl Fountain | Sunset 6 Bowl Fountain |
| | |
| Rainbow 6 bowl Fountain | Tropical 6 Bowl Fountain |
| | |
| Yellow Heron | Purple Peacock |
| | |
| Regal Amazon | Majestic Amazon |