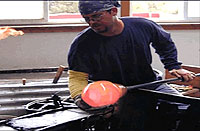 Jared Davis, now in his early thirty's, was born in New York City and raised in Aspen, Colorado. He has spent the last 8 years working with blown glass, beginning at K Dahl Glass Studios. In 1995, Davis was introduced to Swedish glass masters, Jan-Erik Ritzman and Sven Åke Carlsson, who invited Davis to study with them in Transjö, Sweden, for two years. Prior to his trip to Sweden, in the winter of 1996, Davis studied Italian style glass blowing and glass sculpting at The Pratt Fine Arts Center in Seattle, Washington.
The apprenticeship ended in July 1998. Davis then returned to Crawford, Colorado with his family. Until recently he has been an active glass blower and designer for K Dahl Glass Studios, although he is still one of K-Dahl's main glass blowers he concentrates most his time designing and blowing his own work for his business.
Davis says the appeal which glass has for him is due to its ability to reflect, absorb and transfer light. With the use of opaque and transparent colors placed in conjunction with each other, it seems possible to capture the many luminous qualities of glass. When working with blown glass, he is working with a molten material, which follows a viscous path according to where it is hottest and coolest. During his apprenticeship Davis mastered some of the more difficult shapes by learning to control the glass in its most difficult form.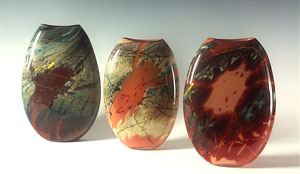 SOLD
| | |
| --- | --- |
| | |
| SOLD | SOLD |
| | |
| SOLD | SOLD |
| | |
| SOLD | SOLD |
| | |
| | SOLD |
| | |
| p | |