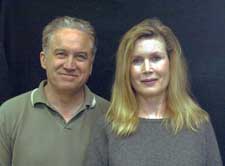 Patricia received her Bachelor of Arts degree from the University of Berkeley. She has been a sculptor since 1989 and has won numerous awards for her work. She has been a glass designer and assistant to her husband Geoff in the hot shop for the last seven years. Geoff received his Bachelor of Science from California Polytechnic University as a dichroic glass specialist. He has 20 years of "thin film" experience. He creates dichroic glass by evaporating precise thicknesses of refractory oxides onto glass in a carefully controlled vacuum. His extracting techniques produce colors of a purity unmatched by any other methods.
This husband and wife team has mastered the production of well priced and unusual glass art, both functional and non functional. The process of creating their pieces includes slumping and casting methods with a knowledge of glassblowing techniques.
The Caplettes "Inner Glow" series of shells is comprised of 45% lead crystal and are molded from actual sea shells. Each one is hand casted using their own adaptation of a casting method originally developed by the ancient Egyptians to make gold jewelry. Their specialized dichroic coating combined with the high lead content in the crystal is what enables them to make such a high quality product with such definition
.


Arc Platter on Stand
Square Platter Gold
Round Platter Gold


Round Platter Blue
Square Platter Blue
Wave Blue
| | |
| --- | --- |
| | |
| Spider Conch | |
| | |
| Ammonite Shell | Conch Shell |
| | |
| Harp (Marine) Shell | |
| | |
| Scallop Shell | Starfish |
| | |
| Sea Urchin Shell | |
| | |
| Grand Murex Shell | Group of Shells |