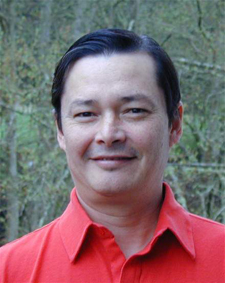 Kurt McVay has been a professional glass artist since 1985. He is best known for his fused and kiln formed dinnerware and decorative platters. He was born in Honolulu, Hawaii and received his glass education from Central Washington University.
McVay is a very unassuming artist who lets his creativity speak for him. His technical glass making skills include glass blowing, kiln forming, etching, leaded windows and murals. He has completed two commissioned architectural projects in Honolulu, Hawaii at The McLim Building and the well known David Paul's Diamond Head Grill Restaurant. He has also completed numerous corporate awards projects.
His work is used for food presentation in some of the world's best restaurants. He is particularly well known for his quality craftsmanship and design aesthetics. The variety of designs and patterns he produces could only be rivaled in scope by a mass production manufacturer which would lack the attention to detail and quality.
ARTIST STATEMENT: "I enjoy making things. I believe artistic objects for humbled everyday activities greatly enhance our daily lives. These objects can reflect spiritual or aesthetic feelings and have a humanizing influence if the artist's decisions are made thoughtfully. I am grateful to those who have taught this to me".