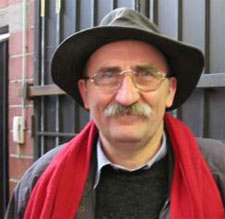 Hans Peter Neidhardt was born in Germany in 1947. He studied architecture and design at the University of Venice. There he was influenced by the great glass designer Carlo Scarpa. After graduation he continued at the University as a professor. In 1986 Neidhardt began to work with various Murano companies as a designer of accessories. His keen sense of color allowed him to use canes and murrine in various new and modern ways.
In 1999 he opened his own studio, continuing to explore technique and color in his lighting and accessories. He has mastered the technique of incalmo which is the combining of 2 or more formed hot glass pieces together as one. He makes precision murrines which when combined with the incalmo glass pieces makes a wonderfully unique vessel or lighting creation.
Many of the color selections can be made into your choice of hanging pendant lights, wall sconces, or table lamps. As these pieces are all handblown, no two pieces are exactly alike in color. These variations contribute to the beauty of these remarkable light fixtures. Appropriate, high quality hardware kits are included with your purchase.

Ribbon

Blue Ribbon

Harlequin

Dolphin Blue

Klimt Amber

Klimt Cobalt

Kandinsky

Matta

Greca Red

Metro

Pistachio

Golden Braid

Mosaic Mulit

Onyx Windows

Avventurina

Amber Murrina

Klimt Amber

Onyx Windows

Klimt Cobalt

Metro

Greca Red

Harlequin

Kandinsky Gold

The above lamp shades are also available as pendants facing down, as shown, or facing up. Click on any image for a complete list of choices.