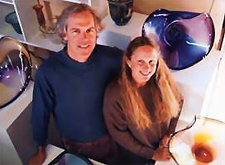 Rick and Janet Nicholson have worked together as a successful team since 1979. Rick studied under Don Hartman at University of Southern California from 1979-1981, at Sierra College under Jim Devore from 1996-1999 and with Dale Chihuly and Fritz Dreisbach at Pilchuck Glass School in 1981. He has also studied at Pilchuck Glass School on several occasions from such notables as Therman Statom, Richard Marquis and Dino Rosin from 1981-2003. Janet attended Stephens College in Columbia, Missouri for 2 years followed by 2 years at Brooks Institute of Photography.
Following his university education, Rick Nicholson operated a pottery studio full time in southern California from 1974 to 1981. Janet left her photography position at University of Southern California in 1979 to freelance and create designs on Rick's clay forms. They were married the same year, and their artistic collaboration began. By 1982, they were called to concentrate on glass alone and settled on 9 acres in California.
Their work involves figurative sculpture, sculptural lighting and elegant, asymmetrical bowl and vessel forms. Many works have been commissioned for hotels and private residences internationally. Rick's studies in metals, hot sculpting and glass casting have allowed the work to take a new direction. While Rick does most of the hand blown work, Janet assists him and is the color and design part of their successful collaboration.
Rick and Janet's dedication to glass blowing is evident in the excellent quality of their work. The emphasis in their small studio is on creativity and innovation. Each piece is a free-hand expression of the excitement and risk-taking only found in an experimental glassblowing studio.
Calabash Hawaiian Fruit Bowl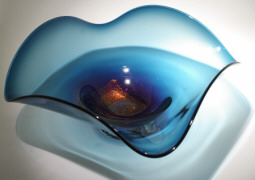 Dichroic Open Bowl New Green
Dichroic Open Bowl Garnet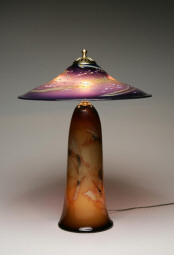 Illuminations II Table Lamp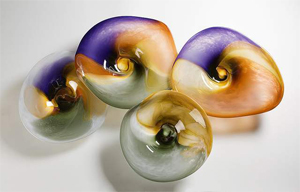 The Point Reyes 4 Piece Wall Display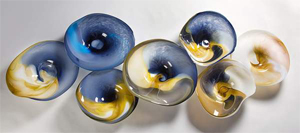 Pacheco Pass 7 Piece Wall Display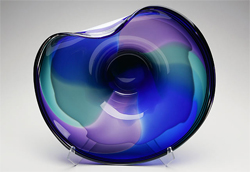 New green, amethyst and cobalt
Footed Wave Bowl
Gold topaz, coral and light blue
Footed Wave Bowl
Amethyst, ruby and gold topaz
Footed Wave Bowl
Lime, steel, coral and white
Footed Wave Bowl