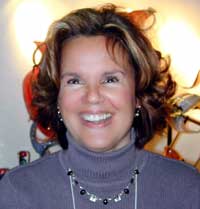 Celeste Bernadette North, also known as Berni, is originally from Vincennes, Indiana. She majored in Fine Art specializing in ceramics at the University of Indiana and University of Louisville. Very much like many glass artists, Berni started out in stained glass but quickly became interested in the art of hot glass. Today, much of her handcrafted work bears the distinction of highly polished beveled glass with a combination of hand blown glass and other materials meshed together to create beautiful works of art.
Berni draws much of her inspiration from nature and has a keen eye for art. She combines the fluidness of the glass mixed with a wide assortment of colors to create her pieces. Her work ranges from matching sets of intertwining candleholders to intricate fish trapped in seaweed.
Berni has created many commissions over the years, and one that she is well known for is the glass mural for the Parquet Springs Conference in Shepherdsville, Kentucky. The three dimensional, 20 feet high by 8 feet wide mural features an aquatic theme. She has also won several awards for her work over the years.