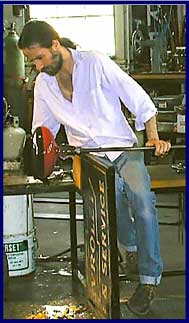 Sam Stang is a veteran glassblower whose career as an independent glassblower started in 1983. He attended Washington University in St. Louis, Missouri from 1980-1984. During this period he was a student of Fritz Dreisbach (one of the pioneers of the contemporary glass art movement in the U.S.) at the Penland School of Crafts in 1983. He was also a student at the Penland School of Crafts in Maine of the man most people consider to be the best glassblower in the world, Lino Tagliapietra.
All of Stang's glass creations are made by using traditional European glassblowing techniques. He makes all the murrini pieces himself with glass rods which are patterned in a cross section. The rods are cooled and cut into thin pieces and arranged on an iron plate which is then heated to fuse the murrini. This is then rolled into a tube on the end of a blowpipe and shaped into the final form.
ARTIST COMMENT: "Every piece I make is entirely produced hot at the furnace. The banded bowls are blown as separate sections and fused together. This technique known as "incalmo" requires a great deal of skill and cooperation. I work with at least one assistant and often with a team of three experienced glassblowers. Since 2000, Kaeko Maehata has been my main assistant."