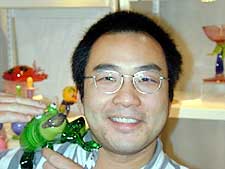 When I see glass moving, it is alive. Its heat is a radiant soul. In the studio, it is my malevolent dance partner, and in the gallery, my benign wise old friend. When I ask it to stop, it's a snap shot of my life's chi, frozen for longevity."
After seeking direction after attending Pilchuck Glass School, Ontario College of Art in Canada and Centenniel College in Toronto, Canada, Tjiang's marriage to his wife, Monica was the great catalyst. It sparked life to the amorphic primordial design soup; I had called my work. The pattern, colour, and textures gave way to naïve line, and whimsical images. He has performed numerous exhibitions and received several awards for his work in Canada and the U.S. since 1988.
Tjiang has two children. They went from peanut shaped bundles to bouncing toddlers in the blink of an eye. Pictorial whimsical images looked to arrange themselves in a narrative. My children grasped at expressing themselves. Sounds grew to words, and words grew to sentences. His glass work took on the animated "cartoony" look of kiddy book characters.
Tjiang is really picky about how the posture of each piece and how it expresses a feeling. My children were enrolled in ballet and gymnastics. Whimsy was still important, but alone it was not enough. Elegance and refinement are the goals, now for my children and my work. He sees the technique of hot bit assembly he has fallen into using, in the hot glass studio as a metaphor of my own life.
"Assembling little bits together, trying to combine an elegant statement and the whimsy of childhood."